Farm Fence
Product No.:2023113161755
Farm fence is one kind of fence made of galvanized wire, which is widely used in the pasture, grass protection, cattle protection, etc. It also known as field fence, farm fence, grassland fence, livestock fence, horse fence, deer fence, sheep wire knotted wire mesh fence.

Material:
Q195, steel wire
II. Hot dipped galvanized
III. High hot dipped galvanized
Edge wire:
2.0mm-3.2mm
Mesh wire dia: 1.8mm-2.5mm
Height: 0.8m,1.0m,1.2m,1.5m, 1.7m, 2.0m.We can also make as the request of the customer.
Length: 50m-200m (According to the request of the customer)

Application:
Fence for feeding deer, sheep and cow, or other fences.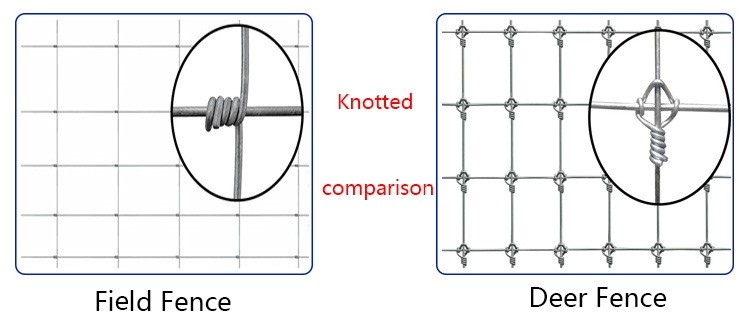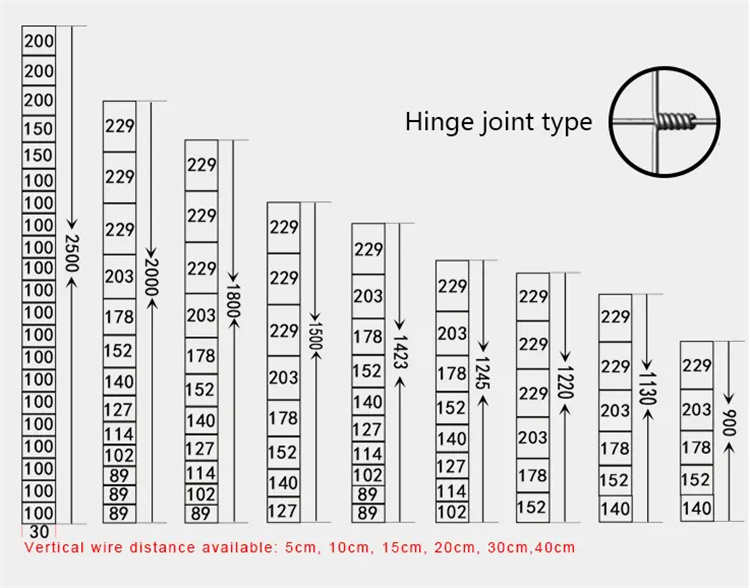 Specification for Field Fence

No.

Specifications and Hole Sizes

Gross Weight (kg)

Top and Bottom Wire Dia.(mm)

Inner Wire Dia.(mm)

Type

Specifications (the incremental vertical hole sizes)

1

7/150/813/50

102+114+127+140+152+178

19.3

2.5

2

2

8/150/813/50

89(75) +89+102+114+127+140+152

20.8

2.5

2

3

8/150/902/50

89+102+114+127+140+152+178

21.6

2.5

2

4

8/150/1016/50

102+114+127+140+152+178+203

22.6

2.5

2

5

8/150/1143/50

114+127+140+152+178+203+229

23.6

2.5

2

6

9/150/991/50

89(75) +89+102+114+127+140+152+178

23.9

2.5

2

7

9/150/1245/50

102+114+127+140+152+178+203+229

26

2.5

2

8

10/150/1194/50

89(75) +89+102+114+127+140+152+178+203

27.3

2.5

2

9

10/150/1334/50

89+102+114+127+140+152+178+203+229

28.4

2.5

2

10

11/150/1422/50

89(75) +89+102+114+127+140+152+178+203+229

30.8

2.5

2